Event Details
Registration: A single registration and donation enrolls you as a participant of the Eden Class and the Meditation Class for The Eden Project Program, 2022 Winter/Spring program term.
The Eden Project Winter/Spring 2022 Registration Form
Dates:
January 4
January 11
February 8
February 22
March 1
March 22
March 29
April 19
May 3
May 24
May 31
Times: Tuesdays, 7:00 pm ⎯ 9:00 pm Eastern. Links to Zoom sessions are emailed the day before each session.
Time zones: Times listed are in the Eastern Time Zone (Ann Arbor, MI, USA). To convert to a different time zone: Use Time Zone Converter
Facilitator: Barbara Brodsky who channels Aaron
Offer dana to Deep Spring Center teachers
Schedule for Fall 2022:
9/13, 9/27, 10/4, 10/18, 11/1, 11/15, 11/29, 12/6
Eden Class, 2022 Winter/Spring Series
You come from Eden, and you will return to Eden. You move through the process of experiencing the densities as you move through and back to eighth density, experiencing all levels of consciousness. Ultimately, you will recognize that you have never left Eden. Upon imagining that you had left Eden, you opened into the experience of the separated self with its free will. Clarification of that separated self, releasing that which is only in service to self and built on a framework of fear, is where you are now; opening to that which is loving, which is Love. Here you see where meditation is so essential!
As we continue to learn how to open to this awakening earth from the perspective of the true self, and supporting that awakened consciousness in everything, these classes will support further understanding of how to experience and engage a high consciousness universe, grounded in love, in which every being is free, is supported, is cherished.
We will be deepening our understanding of what Eden is, how co-creation can more familiar, intentional, and an integral part of daily life interaction. How do we co-create a world where there is an abundance of caring, of nourishing, of love, and where we have released what blocks that abundance?
How do we co-create a world, and really a universe, in which, when we say, "Namaste," there is full understanding of that word? "The divine in me greets the divine in you." We will deepen our process with releasing the personal blockages to knowing and cherishing the divine in everything, like the fear that, "Perhaps I won't be enough or have enough. Perhaps I will lose something."
As we move deeper into the Eden Class, we will be exploring how can we, as a group, as a world, hold this high energy? How do we speak to fear, hatred, greed, and violence from the place of deepest truth in our hearts? In essence, what would it feel and look like to live on a 4th/5th density earth? And in what ways might I not be fully ready for that?
This ties us into the Meditation Class and Vipassana practice, watching the arising of feelings of shame, of wrongness. We will more fully develop the ability to acknowledge that the ego is a part of human experience. We are not trying to cut out the ego, only choosing (free will) not to get caught in the ego's stories. Likewise, we are not trying to cut out or ignore the physical body, but instead practicing to not be caught up in its stories. Further practice will focus on the experience of non-duality as a necessary foundation for the co-creation of Eden. I will work with John on this in the Vipassana class also—the direct experience of the awakened self, and beginning to trust this awakened self. Some of the practices in Dharma Path will be headed toward this end.
We will thus be practicing what it feels like being a 4th density being, what may block our fullest emergence as such, and how to take care of those blockages.
We will continue to bring in various support practices that you will work with as homework and share how your process is going as you work together in the small group meetings. We will be moving further into the path of sacred darkness and into the non-duality of light and darkness. In deepening in our ability to move out of duality and live in non-duality, we are more fully preparing ourselves to be clear mediums and to co-create Eden. We are more fully preparing ourselves to live a lifestyle deeply committed to service to all beings and harm to none.
You will engage in practices with yourselves a mediums of creative germination and how this is such a powerful responsibility and fascination to know one's interconnection with everything. Only with this deep knowing of inter-being with All That Is and the highest intention for loving service, can one truly connect to anything, be it the ingredients of the soup, be it the plants growing from the ground, or be it the spirit entities that may wish to speak through one.
The class will involve learning to connect to everything, both through formal meditation and through times of sitting; just hugging a tree and becoming the tree; holding a friend's hands and looking into each other's eyes and being each other; experiencing your higher Self and other spirit energy. Most importantly, you will be looking at any intentions toward self-service that exclude others and hold fear, and learn to ground those intentions with love so they can begin to dissolve.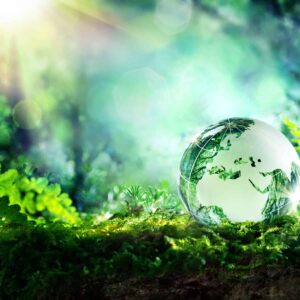 May 24, 2022 @ 7:00 pm – 9:00 pm EDT
Links to Zoom are emailed the day before each session.

Deep Spring Center teachers offer their time on a dana basis, joyfully sharing the teachings. Your free-will offerings to them are greatly appreciated, as they receive no compensation from Deep Spring Center. Offer dana to Deep Spring Center teachers.