evenings WITH AARON
All are welcome! No experience or registration necessary.
 Offered on a dana (a freely offered donation) basis.
An open session with Aaron and Barbara Brodsky. Aaron gives a talk, followed by Q&A.
Aaron's talk will cover a variety of spiritual practices including Vipassana and Pure Awareness Meditation, working with inner guidance, and supporting changes in our physical/spiritual bodies through work with body energy, the elements, sound and Open Heart.
______________________
Topic for Wed., November 8 from Aaron
Dear friends,
In  a conversation with friends this week, the question of sin arose. What is sin? Did Jeshua come to "save" us from sin? What does that concept mean and how has it become distorted and taken us away form our true path?  Jeshua came in, and spoke about what his life had been about. He emphasized that he did not come to save people from sin, he came to teach people their radiance, their divinity.
 Later in our conversation,  I gave the definition of sin as "sinking into negativity". That's all sin is, sinking into negativity. There's nothing there that's solid. When you're not sinking into negativity there's no such concept as sin.    
On Wednesday I will speak further about all of this. What is this "sinking into negativity", how can we understand even this as teacher rather than foe, and how does our work with this catalyst mesh with what Jeshua came to teach? I look forward to sharing these ideas with you and to any discussion of them.
with love, Aaron. 
______________________
Evenings with Aaron, March 15, 2017 – Transcript
_______________________
 General information from Barbara Brodsky and Aaron about Evenings with Aaron:
Dear friends,
Some of you have been with us for these evenings in person or by Conference Sessions, literally from all over the world; some of you may be new to our gatherings. Once a month Aaron speaks on a topic and then we open the floor to questions from those present and from conference call attendees. A few weeks before each call, Aaron will share the topic more precisely and we'll post it on the Deep Spring Center web site.
Aaron:
Deep Spring Center's core teaching involves non-duality. Our mission statement reads in part:
To awaken to our true nature; to remember and practice wholeness.
To recognize the essence of Light in all sentient beings.
To live practicing the non-separation of all that is.
This fall I will speak to these points at our monthly gatherings, starting with the question, what do we mean by "non-duality"? How do we turn these words from concept to a living non-duality? We will explore real practices that help.
Certainly the human may experience physical, emotional and mental distortions. How do you remember your wholeness with no denial of the distortions, but also not giving them energy and power? Not "either/or" perfect or distorted, but both. You are the angel in the earthsuit. Both are equally real. The earthsuit is your ground for learning. The angel is your deepest truth.
This same is true of every sentient being. When you live recognizing this as truth, then there can be compassion and peace.
I look forward to exploring these ideas with you and supporting your deepening in the true living of compassion and non-dual awareness.
_______________________________
Questions for Barbara Brodsky: If you have questions, you may email Barbara at bbrodsky@deepspring.org. This is the best way to reach Barbara. After Labor Day Barbara can also be reached by phone at 734.971.2076. This is a direct deaf phone with voice recognition software, and Barbara will speak back; there is an answering machine if she is not near her phone, so you may leave a message. Please be aware that Aaron can not answer personal questions by short phone call or email, but only in scheduled private meetings. Feel free to phone or email questions about classes and retreats, and to ask to schedule a meeting.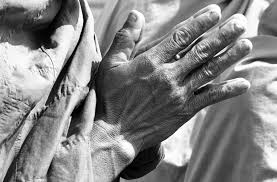 2017 Fall Schedule
Sept. 20 | Oct. 11 | Nov. 8 | Dec. 20
Held the second or third Wednesday of the month.
7:00 pm – 9:00 pm (EDT/EST)
Held at:
Interfaith Center for Spiritual Growth
704 Airport Blvd. Ann Arbor, MI  48106
Get Directions
All are Welcome. Offered as Dana (donation).
No registration required for those attending at the center.
________________________________________________
join Barbara brodsky and aaron by video or audio conferencing – you choose

Join us from anywhere.
Plus receive the live video or audio to watch or listen to anytime.
Registration – click here.
Webinar and Audio – 2017:
All 4 sessions:
Video: $68
Audio: $40
Single sessions:
Video: $21
Audio: $15
For monthly donors as a Thank You for your support you are automatically enrolled in the Evenings with Aaron sessions plus a link to the live video conference to watch anytime.
All Deep Spring Center teachers offer their time on a dana basis, joyfully sharing the teachings. Your free-will offerings to the teachers are welcomed.
Note: Teachers do not receive any compensation from Deep Spring Center. Deep Spring Center fees / donations are used for running expenses in support of retreats, classes, workshops and to protect the archives of Barbara Brodsky and Aaron for future use.
To offer dana to Barbara Brodsky:
PayPal: paypal.me/barbarabrodsky
Check:
Please make check payable to Barbara Brodsky:
Barbara Brodsky
3455 Charing Cross Rd.
Ann Arbor, MI  48108